When I first switched to a low histamine diet I really missed chicken stock. I used to cook my chicken stock, using the carcass for 8 hours, that's really high in histamine! So for a while I switched to a vegetable stock, but it's just not the same. Thankfully I discovered the joys of pressure cooking, and this easy quick broth was born.
Cool and freeze as quickly as possible to keep your histamine levels down. If you make this stock on the stove, you can cook for up to 30 minutes but the result will have less flavour.
Be careful of any purchased stock, soup or broth and slow cooked bone broth, they are very high in histamine. Bone broths can also have a bunch of heavy metals in them, that the animal can get from feed or from eating grass grown in poor quality soil.
Find out which foods are low and high in histamine and how to shop store and cook them in the Happy Without Histamine low histamine foods list.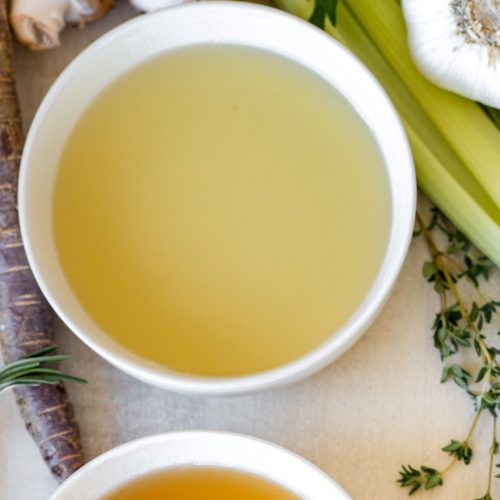 Chicken broth (stock)
This chicken broth or stock is cooked very quickly in a food processor to keep histamine levels low. Histamines build up with heat and time, so this method is preferred over the slow cooker or stove top methods.
Ingredients
600

g

chicken breast

1

bay leaf

1

tbsp

sea salt

1

cup

parley stalks

8

cups

water
Instructions
Add chicken, bay leaf, parsley, salt, and water to a pressure cooker. Cook on high pressure for 30 minutes.

When finished, follow directions of your pressure cooker to release steam and pressure and turn off your cooker.

Pour your stock through a sieve into a large glass jug in batches.

Pour the sieved broth into glass jars. leave room for expansion at the top – about a finger width. Seal tightly.

If saving the chicken meat, remove from the cooker, shred and freeze.

Add jars to the sink in a cold water bath for 25 minutes until cool, then place straight into the freezer.
Notes
No pressure cooker

You can cook this on the stove for no more than 30 minutes to get a low histamine broth.

Storage

For low histamine, stock cool as quickly as possible and freeze immediately.

Size of cooker

Adjust water to the size of the pressure cooker. This recipe was developed using a New Wave 12 cup pressure cooker. Read your machine's instructions and leave space for steam while cooking. Do not overfill your machine.

Chicken uses

Freeze the cooked chicken meat and use it for soups, sandwiches, and stir-frys.

Tolerance

You can leave out the bay leaf and parsley if you don't tolerate them and it will still taste great!
Nutrition
All nutritional information is based on third-party calculations and should be considered estimates. Actual nutritional content may vary.
Some posts on this blog may contain affiliate links, which means we may receive a small commission at no cost to you if you purchase through a link.
---
Recipes just like this are in the Ultra-Low Histamine Meal Plan along with many more. Your low histamine elimination diet made easy, with 4-weekly meal plans, over 55 recipes, and prep guides and shopping lists for each week.
---