Are you struggling with bloating, heartburn, reflux, indigestion, gas, constipation, or undigested food in your stool?
Do you eat really fast? I know I used to. The food would disappear before I even noticed I ate it! My clients often have this issue and when they learn these tools it can be a game-changer for heartburn, reflux, indigestion, bloating, gas and constipation.
Are you ready to embark on a transformative journey that will redefine your relationship with food?
Say hello to mindful eating—a practice that goes beyond just nourishment delves into the art of savouring each bite and helps support the nervous system and helps digestive and histamine intolerance symptoms.
We've all experienced those moments when we polish off a whole bag of chips without even realizing it. This is mindless eating, all too common in our fast-paced and bustling world. In the midst of our busy lives, we often eat on the go, distracted by screens, or hurriedly consume meals without truly paying attention to what we're putting into our bodies. Mindless eating not only takes away from the joy of food but can also lead to overeating and unhealthy food choices as well.
So what's the issue with eating fast?
When we don't chew our food enough, then all the work is left for the stomach to do. But we don't have teeth in our stomachs! And if we are eating fast our body has often not had enough time to create the stomach acid and enzymes required to digest our food. This leads to gut issues that slowly get worse over time such as SIBO and leaky gut. You might notice symptoms like stomach pain, bloating, reflux, constipation or burping and gas. SIBO and leaky gut can contribute to histamine intolerance symptoms in the rest of the body, such as rashes, sinus congestion, headaches, joint pain, fatigue, allergy and more!
So as you can see, you may be trying really hard to follow a low histamine diet, but not know about the most important step, the moments just before you eat.
The good news is, mindful eating can help!
In this article, we'll explore what mindful eating is, its benefits and how you can incorporate it into your daily life.
What is Mindful Eating?
Mindful eating offers a transformative and compassionate way to nourish your body. Rooted in mindfulness, this approach invites you to fully engage in the experience of eating. By being present in the moment, embracing your senses, and acknowledging the thoughts and feelings that accompany each bite, you can forge a deep connection with your food. Is this something you practice daily?
The Benefits of Mindful Eating
Mindful eating offers a multitude of benefits that can positively impact both your physical and emotional well-being. Embracing this mindfulness-based approach to eating can bring about profound changes in your relationship with food and lead to a more balanced and fulfilling life.
Let's look at some of the remarkable benefits of mindful eating:
Supports the Parasympathetic nervous system and gut:
The parasympathetic nervous system constitutes one of the two primary divisions of the autonomic nervous system, responsible for regulating involuntary bodily functions.
Often referred to as the 'rest and digest' system, its primary purpose is to:
conserve and replenish energy
induce relaxation
facilitate non-life-threatening activities
promote cell renewal and repair
digest food
Among its crucial functions is the stimulation of digestive organs, including the stomach, liver, gall bladder, pancreas, and intestines, promoting optimal nutrient absorption and facilitating the process of digestion. When you eat mindfully, you allow your body to better digest your food. By chewing thoroughly and savouring each bite, you aid the digestive process and reduce the risk of indigestion and bloating.
Through the activation of the parasympathetic nervous system, the digestive system functions optimally. As a result, there is improved peristalsis, the muscle contractions that move food through the digestive tract. Plus increased secretion of stomach acids and digestive enzymes that break down food and can help to reduce digestive symptoms.
Stress can exacerbate histamine intolerance and mast cell activation symptoms. You can find out more about stress, histamine and the importance of mindful eating to help manage the parasympathetic nervous system in my article on Stress and histamine intolerance.
Weight Management:
Mindful eating can help you maintain a healthy weight or even lose weight. By being aware of hunger and fullness cues, you are less likely to overeat and make more conscious food choices.
Enhanced Enjoyment of Food:
Slowing down and truly savouring the taste, texture, and aroma of your food can make eating a more pleasurable experience. You'll find yourself enjoying and relishing the flavours more than ever before.
Better Connection with Hunger and Satiety:
Mindful eating enables you to recognize hunger and fullness, rather than feelings. People often eat from boredom or stress and recognising the hunger cues allows for more intuitive eating.
Reduced Stress:
Taking the time to eat mindfully can be a meditative practice that helps reduce stress and anxiety. Focusing on the present moment and the act of eating can create a sense of calm and relaxation.
As stress is one of the things that can exacerbate histamine intolerance. Mindful eating is a powerful practice to help manage stress and therefore avoid flare-ups.
Healthy Food Choices:
When you're present and attentive while eating, you're more likely to choose healthier food options. You'll become attuned to what your body needs and make choices that nourish you.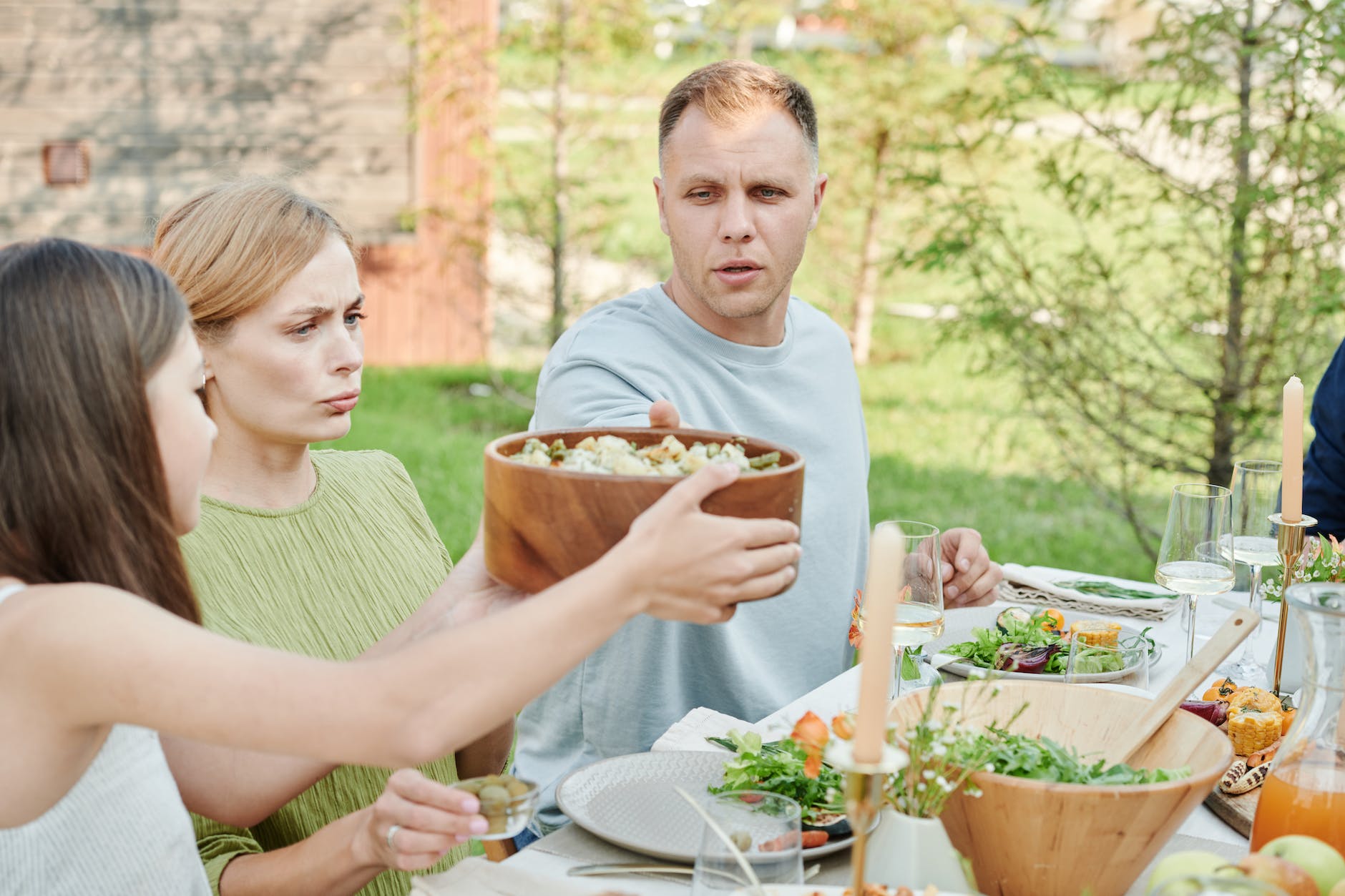 How to Practice Mindful Eating
Not sure how to get started with mindful eating? Here are my tips to get started:
Slow Down and take your time:
Set aside dedicated time for meals and avoid rushing through them. Put away distractions like phones, computers, or television, so you can focus solely on eating.
Appreciation of your food:
Before taking the first bite, take a moment to appreciate the food's appearance and aroma. Pay attention to the smells, textures and taste of your food. Take a couple of very slow exhale breaths.
Focus on chewing:
Chew your food slowly and thoroughly. Not only does this aid digestion, but it also allows you to fully experience the taste and texture of your meal.
Take your time between each bite:
Put your utensil down between each bite. This simple act helps you avoid mindlessly loading your fork for the next bite while still chewing the previous one.
Avoid multitasking:
Avoid eating whilst standing up, walking, driving or doing other activities. Mindful eating is about prioritising eating without multi-tasking. Reading or watching TV while eating will distract you from noticing how fast you are eating.
Tune into Your Body:
Throughout the meal, check in with your body. Are you starting to feel full? Are you still hungry? Listening to your body's cues and then taking action. Either by ceasing food, because you've eaten enough, or continuing to eat because you are still hungry. Tuning into your body cues ties in with the other points about multitasking.
It's easier to listen to your body's cues when there aren't other distractions. It takes about 20 minutes for our brains to get the message from our stomach after the stomach is full. so slower eating will allow you to pick up on these queues. You might want to follow the Japanese practice to eat until you are 80% full.
Mindful eating is a simple yet transformative practice that can have a profound impact on your overall well-being. By incorporating mindfulness into your meals, you can create a healthier relationship with food and cultivate a deeper appreciation for the nourishment it provides. Plus the biggest bonus is that it helps support the nervous system which in turn can help to avoid or reduce histamine flare-ups. So, the next time you sit down for a meal, take a breath, be present, and savour each bite.
Struggling to get answers about your histamine intolerance symptoms?
Watch my free Masterclass – The 5 Steps to Healing from Histamine Intolerance.
You will learn my 5-Step plan, the exact same method I used to recover from histamine intolerance. These 5 steps everyone with histamine intolerance must know to resolve all those confusing symptoms and get back to eating foods you love without fear!