Apples are a source of pectin, a non-starch polysaccharide that is humans don't digest. The pectin is food for beneficial bacteria in our colon. They convert it into beneficial short chain fatty acids (SCFA) . SCFA help to keep the cells in our gut lining healthy and the beneficial gut bugs well fed.
The SCFA's also promote growth of these intestinal cells, reducing leaky gut. The breakdown products of pectin also help to balance gut motility (intestinal contractions), so they can be used to prevent diarrhea or constipation. Cooking the apples makes them gentler on the digestive system for an inflamed gut. You may need a large amount to see a difference around 1-2 cups per day! But start small with 1 to 3 tablespoons and work up so you can see how much you require., Also, so you don't experience side effects of too much fibre too quickly!
Applesauce is also essential basic recipe, to use in baking or as a topping for breakfast, snacks, and desserts. You will find this recipe used in many other recipes and it can be a replacement for a mashed banana to make a recipe low histamine. Try it on top of Plant-based Oatmeal Pancakes yum!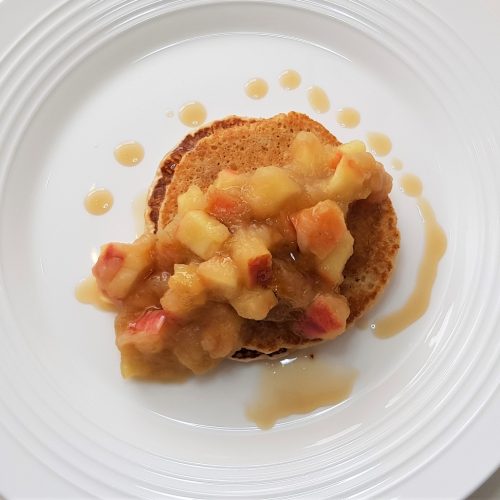 Apple sauce
An essential basic recipe, use in baking or as a topping for breakfast, snacks and desserts.
Ingredients
5

green apple

1/4

cup

water
Instructions
Peel and core the apples and chop into chunks.

Place a saucepan on high heat. Add apples and water. Bring to boil then reduce to medium heat. Cover with a lid and cook for 3 minutes then stir. Re-cover and cook another 3 -10 minutes or until apples are soft. Some apples will fall apart quickly and some do not. Add a bit more water if it looks like they are drying out.

If you would like the consistency smooth blend with a stick blender or mash with a potato masher.

Allow to cool a little and place in a glass jar and store in the fridge for up to 3 days. This can also be stored in the freezer in single use portions.
Notes
Add 1 tsp ground ginger for a little low histamine spice.
Nutrition
Calories:
100
kcal
Carbohydrates:
28
g
Fiber:
6
g
Sugar:
20
g
All nutritional information is based on third-party calculations and should be considered estimates. Actual nutritional content may vary.
Some posts on this blog may contain affiliate links, which means we may receive a small commission at no cost to you if you purchase through a link.
Find out which foods are low and high in histamine and how to shop store and cook them in the Happy Without Histamine low histamine foods list.
Recipes just like this are in the Ultra-Low Histamine Meal Plan along with many more. Your low histamine elimination diet made easy, with 4-weekly meal plans, over 55 recipes, and prep guides and shopping lists for each week.