You may have noticed that your hormones increase your histamine load, particularly in the lead-up to the start of the menstrual cycle. PMS symptoms especially flushing, overheating, and hot flushes as well as more food reactions may be noticed after day 15 (ovulation) through to the first day or 2 of your period.
This is often due to excess oestrogen and not enough progesterone during the right times of the cycle, commonly called oestrogen dominance. Oestrogen can connect to the H1 receptors in our bodies, triggering mast cells to release more histamine. This is turn can drive up oestrogen, leading to a vicious cycle. As we age our progesterone levels naturally decrease, and stress can play a factor too as our adrenal glands also produce some of our progesterone. If the adrenal glands are overworked then less progesterone may be produced.
So what can we do? Well apart from lots of self care to manage our stress, we can eat flaxseed! Flaxseeds (linseeds) are a phytoestrogens. Bacteria in our gut convert this phytoestrogen to enterolactone which connects to our oestrogen receptors, mimicking oestrogen. however the effect produced from this is much weaker, reducing PMS symptoms.
Just 2 tablespoons of ground raw flaxseeds are required for this marvelous result. For the best results, eat them daily and unheated. You can also experiment with just eating them in the first half of the cycle, however daily consumption is better, also helping to improve gut health. 2 for the price of one! I like to buy whole flaxseeds and grind as required, as pre ground flaxseed can go rancid quickly.
Another thing you can do to help is avoiding xenoestrogens. Xenoestrogens also connect with our hormone receptors and can ramp up symptoms caused by oestrogen dominance and histamine intolerance. These come in the form of plastics (e.g. BPA in soft drink bottles), perfumes, fragranced candles and fragrances in cleaning and personal care products. I avoid most scented products. Using a reliable site like nourished life, means I know there are no nasties in the products I use.
Learn more about which foods are low and high histamine in the Happy Without Histamine – Low Histamine Foods Guide.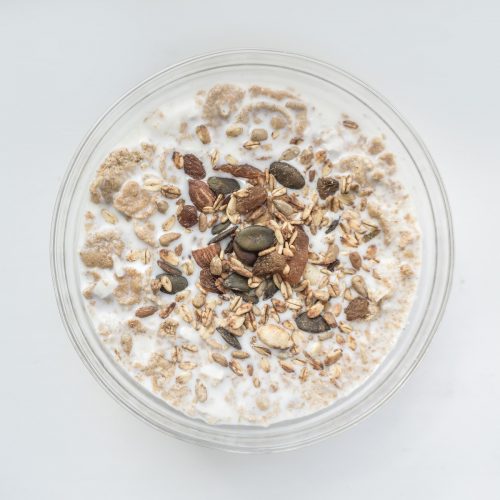 Low histamine apple flax bircher muesli
This recipe can be made in advance and stored in the fridge in jars, ready to grab and go.
I use wheat-free uncontaminated oats which are gluten-free. Some coeliacs react to the avenin in oats, if this is you follow the recipe notes for an alternative.
Ingredients
3/4

cup

rice milk

swap with oat or coconut

1

tbsp

whole flax seeds

linseed

2

tbsp

ground flax seed

Whole Flaxseed ground

1/4

cup

oats

Whole or quick

1/2

tsp

ginger

optional

1

pinch

sea salt

1

green apple

granny smith or other sour apple

1

tsp

maple syrup
Instructions
Add all of the ingredients into a bowl and mix thoroughly. Cover or transfer into a jar with a lid.

Rest on the bench for 25 minutes to set.

Transfer to the fridge for eight hours minimum or overnight (can go straight into the fridge if you are pressed for time).

Add more rice or oat milk if required to serve.

You can top with more fruit, macadamia nuts, or ground flaxseed.
Notes
Gluten-free: Hemp or chia seeds can be used in place of the oats for a coeliac-friendly gluten-free option. Use 3 tablespoons of chia or hemp seeds per serve (NB. Chia seeds are higher in oxalate).
Note on storage: I store mine in mason jars or in glasslock containers. they will last up to 3 days in the fridge. 
Nutrition
Calories:
340
kcal
Carbohydrates:
49
g
Protein:
9
g
Fat:
12
g
Saturated Fat:
1
g
Polyunsaturated Fat:
7
g
Monounsaturated Fat:
3
g
All nutritional information is based on third-party calculations and should be considered estimates. Actual nutritional content may vary.
Some posts on this blog may contain affiliate links, which means we may receive a small commission at no cost to you if you purchase through a link.
---
This recipe features in the low histamine plant-based recipe eBook along with many more. Simplify your low histamine elimination diet with 71 recipes, a 7-day meal plan, a prep guide, and shopping list.

---