Histamine and Stress and the Histamine bucket, did you know they are all connected?
Histamine intolerance is different from other food intolerances. It isn't a reaction to histamine itself but rather that there is too much histamine in your body. This often makes recognising and managing histamine intolerance a little trickier. An important aspect to help understand how to manage histamine intolerance is the histamine bucket.
The histamine bucket is your own level of tolerance to histamine. Often used as a visual tool to represent a person's own limitations. Food, the environment, or stress fills up the bucket. The symptoms of histamine intolerance don't present until the histamine bucket is over-flowing. This can make it hard to work out specific triggers and put a plan in place for yourself. Understanding the histamine bucket can help you to manage histamine intolerance and live a life reaction free.
What can fill up your histamine bucket?
Foods aren't the only thing that can fill up your histamine bucket. Other things such as:
Hormones
Environment
Weather
Medications
Stress
Can also contribute to filling up your histamine bucket.
Does everyone have the same size Histamine Bucket?
No. Your bucket size is personal. It is determined by genetics, your nervous system, and your current capacity to excrete histamine. Food, hormones, the environment, weather, medications, and stress can also trigger the release of histamine from mast cells and disrupt detoxification processes.
One of the reasons why histamine intolerance is hard to recognise is because it works differently from an allergy. With an allergic reaction, the symptoms come on fast. However, with the histamine bucket, the symptoms don't occur until the bucket is overflowing. It's the accumulation, therefore harder to pinpoint what caused the symptoms. Something that was ok the week before, this week might be the last drop in the bucket. The bucket overflows and then you have a big reaction the next day. That's why for those with histamine intolerance eating high histamine foods can be a concern. Because you never know where your bucket is at, and it might just be that last drop in the bucket.
Histamine and Stress – Why stress is one of the contributing factors to the overload of the histamine bucket.
For those with histamine intolerance, stress can be an exacerbating factor.
Ever wondered why when you are dealing with something stressful in your life, like work stress, a sick family member, or relationship issues, that's when your histamine symptoms flare up?
Here is, why…
When the body is in a stressful situation, it releases the stress hormone cortisol. Cortisol is a steroid hormone that is produced by the adrenal glands. Cortisol acts on different functions in the body including:
In response to danger and stress
Increases the body's metabolism of glucose
Controls blood pressure
Controls inflammation
Cortisol signals the nervous system to take action. The hypothalamic-pituitary-adrenal axis (HPA axis) is then signalled by the nervous system which puts the body into 'fight or flight' mode.
This pathway of events tells the body that it is under attack. It prepares all its resources and defenses to get prepared. The processes that aren't needed in the body like digestion are slowed or shut down.
The sympathetic nervous system is switched on and releases neurotransmitters. These neurotransmitters, adrenaline, noradrenaline, and dopamine put the body on high alert for the potential danger.
The sympathetic nervous system also calls into play the immune system. This is where mast cell degranulation occurs and even more histamine is released into the body.
Essentially, stress increases histamine release.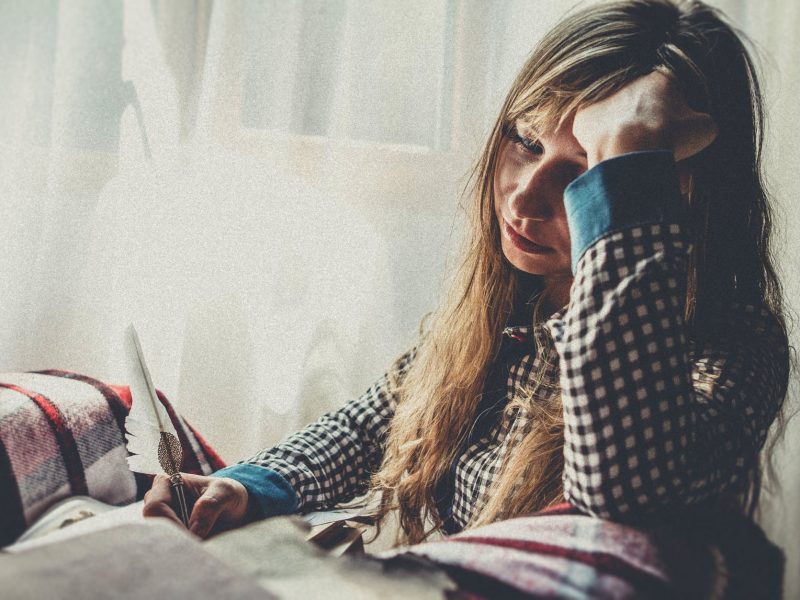 Overloaded with stress or management? – you choose.
This pathway is there to keep the body from being impacted by external threats, which is great short-term. The issue arises when the body is constantly in overdrive and "stuck" in the stress response. This overdrive can be from living a 'busy, jam-packed' social and work life, or past events and traumas. These days, we try to fit more and more into our days without addressing or managing our stress at the same time.
This is one of the main reasons why managing stress is a key component in the overall management of histamine intolerance. By ignoring the impact stress has on histamine and only addressing nutrition, you are missing a key part of the healing/management puzzle!
One of the important things to discuss is that stress can be actual stress or perceived stress. The thing with the brain is that it can't distinguish between the two. Running from a tiger is a very real stress! Worrying about a conversation you had with your partner is a different type of stress. However, the brain thinks it's the same thing and therefore the response in the body is the same. The stress pathway is activated and more histamine is released and you see an increase in symptoms.
Stress can be present in a person's life in many different ways:
Oxidative stress. This comes from an imbalance of free radicals in the body. Too many free radicals lead to cell and tissue damage, and inflammation.
Stress can come from toxins; like mould exposure or heavy metals.
Chronic pain and illness.
Emotional or psychological stress.
Physical stress in the form of trauma or a car accident.
Even exercise is a form of stress on the body.
Over time, the cycle continues. The adrenal glands get more depleted and the HPA axis becomes dysregulated. With adrenal imbalance, it becomes harder and harder to produce more cortisol to counteract the inflammation caused by the excess histamine. Histamine reaction and symptoms continue to get worse.
Steps you can take to understand your histamine bucket (and therefore manage histamine intolerance):
1. Eat low histamine foods. Having a solid understanding of the types of foods that are high in histamine and that will contribute to your histamine bucket is important. The Low Histamine Food Guide is a good place to start.
2. Work with a practitioner. Having someone on your team to help guide you can make the world of difference. Someone who has a qualification in nutrition as well as a background in histamine intolerance and understanding stress. The road to understanding histamine intolerance can be frustrating and lonely and at times very overwhelming. A nutritionist can guide you on a low histamine diet, managing stress and gut health which are all so important in the healing journey.
3. Have a histamine and stress management plan in place. Because stress can exacerbate histamine, having a stress management plan in place is one part of the healing journey. For each individual, this may look different. For some meditation and yoga might be enough, yet with others, brain retraining and other nervous system support may be needed. The Safe and Sound Protocol (SSP) is one potential tool. A five-hour audio program designed to reduce stress and auditory sensitivity while enhancing social engagement and resilience. Based on Dr. Porges' Polyvagal Theory, by calming the physiological and emotional state, the door is opened for improved communication, natural healing, and more successful treatment.
In summary, understanding the connection between histamine, stress & the histamine bucket is a step toward better managing your histamine intolerance. Whilst this is different for everyone, awareness is key to being able to take action in the positive direction for living with histamine intolerance.
I include all the nervous system support tools I used to recover from histamine intolerance and MCAS as well as nutrition and gut healing in the Happy Without Histamine Method.
Struggling to get answers about your histamine intolerance symptoms?
Watch my free Masterclass – The 5 Steps to Healing from Histamine Intolerance.
You will learn my 5-Step plan, the exact same method I used to recover from histamine intolerance. These 5 steps everyone with histamine intolerance must know to resolve all those confusing symptoms and get back to eating foods you love without fear!