What if you could improve your frustrating symptoms and eat delicious food?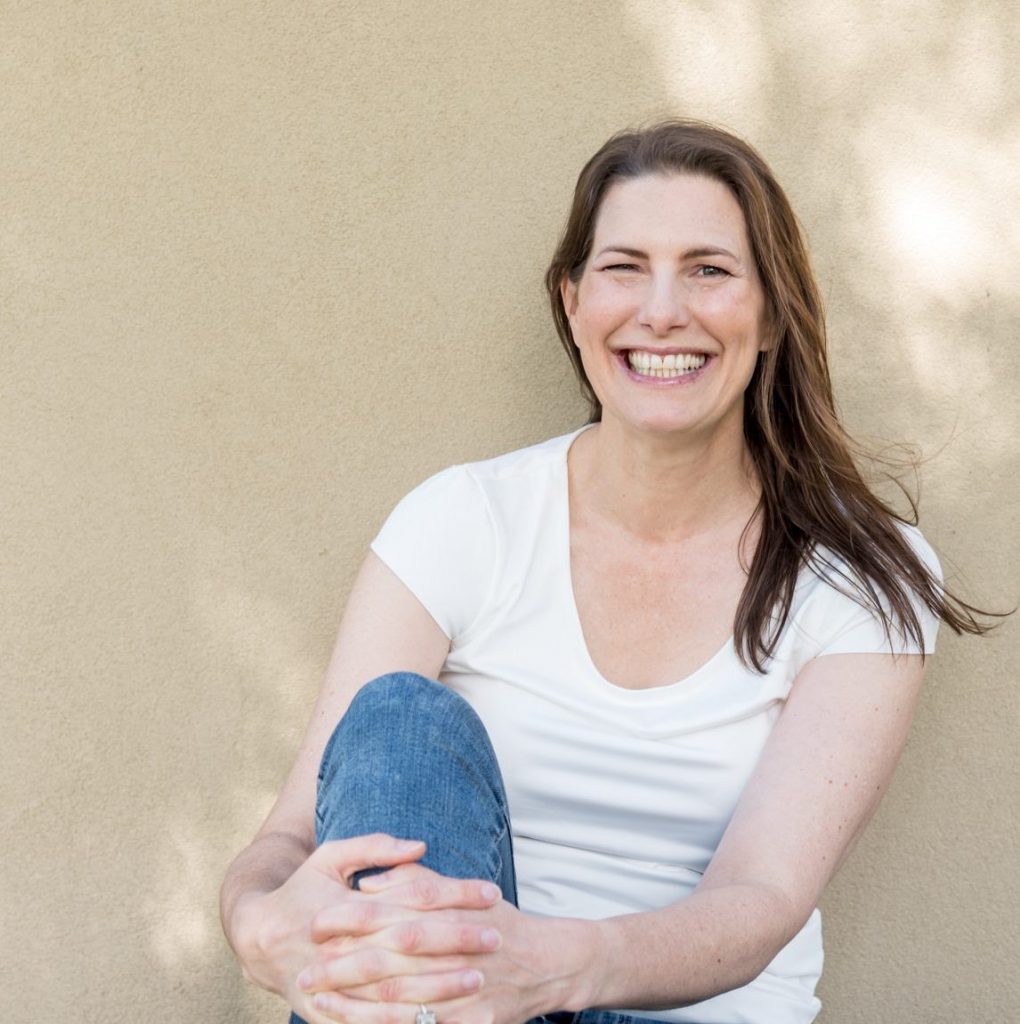 Does this sound like you…
Filling all your brain space worrying about symptoms and what to eat?
Are you overwhelmed by the thought of starting a low histamine diet?
Confused by all the different information on the internet?
Feel like you are doing your best to make healthy choices, but aren't seeing any results?
Grabbing convenience foods because you don't know what to eat?
Eating the same few bland foods?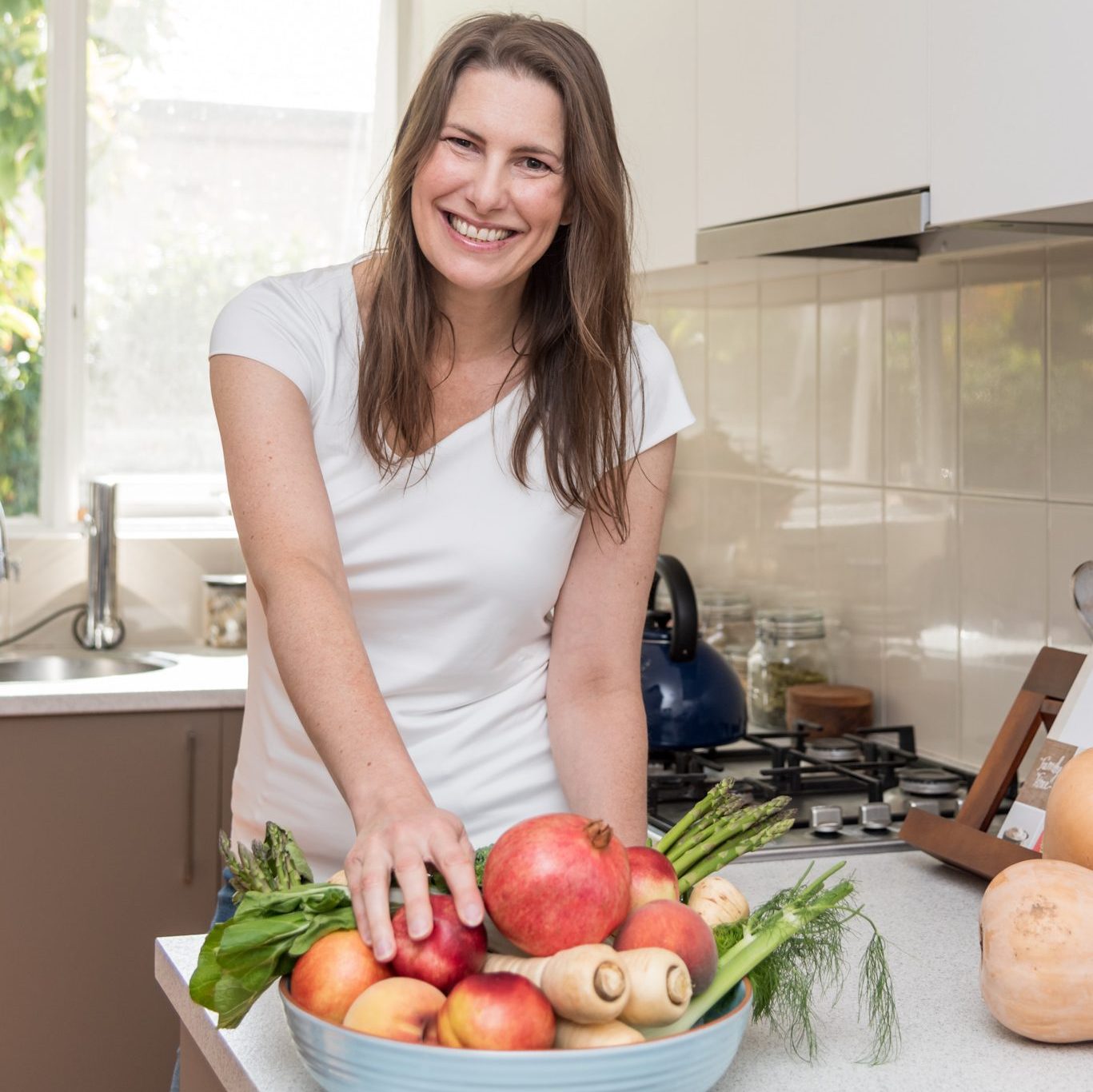 I have been stuck in this place myself. I developed histamine intolerance and had to work it out from scratch too. As a qualified Nutritionist, I have done all the research for you, and developed a proven system to help you get great results!
---
Discover the secrets of a low histamine diet, and how to make it work for you.
Learn about histamine intolerance to understand your body better
Find out what to eat and what to avoid to lower inflammation and symptoms
Understand portion sizes, meal planning, and what to consider when creating your meals to fuel your body and restore your gut
Learn shopping, cooking, and storage techniques to keep histamine levels low
Create a healthy low tox, low histamine kitchen to reduce histamine triggers
Easily manage your low histamine diet to reduce your symptoms
Learn what to look for on food labels, so you can shop easily
Find out what other triggers and lifestyle factors can contribute to histamine intolerance so you can get more control over your symptoms
Assessment questionnaires before and after so you can track your progress
Introducing the Happy Without Histamine Kickstart Course …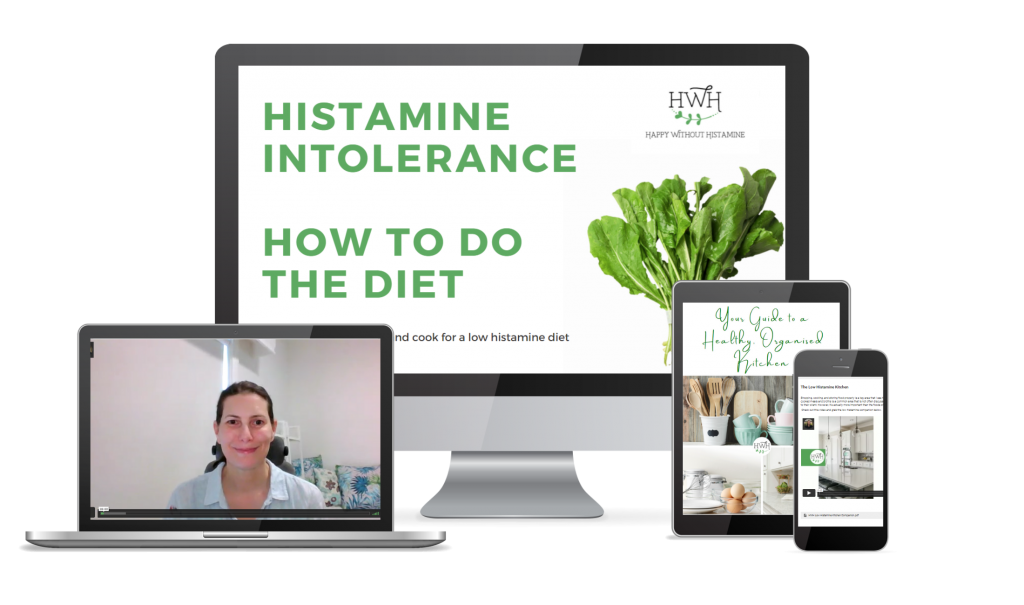 This self-paced 6-week course includes 21 videos plus handouts and worksheets to guide you every step of the way.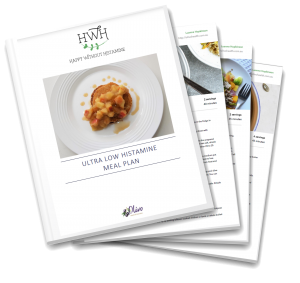 Extra Bonuses!
The Happy Without Histamine 4-week meal plan – with recipes, prep guides, and shopping lists (value $49)
4-week meal plan video review – deep dive into the meal plan (value $95)
Family-friendly 7-day meal plan with low histamine recipes (value $29)
The low histamine kitchen 1-page guide (value $10)
Master the low histamine diet and learn how to eat with ease
All this for just $397 AUD – Approx $275 USD
Or start immediately for just $79.40 (55 USD) per week!
The total value of this course and bonuses is $1,000 AUD!
You won't have to:
Waste hours of research figuring things out on your own
Keep buying and throwing out the wrong foods
Spend hundreds of dollars getting the wrong advice
Keep trying diets and gut-healing foods that just make things worse!
Start this self-paced course now and get ready to feel great, eat with ease, shop confidently and kick those troubling symptoms to the curb!
All this for less than an initial consultation with me!
---
What people are saying about Happy Without Histamine
Before I started the HWH 4-week meal plan program I was unable to eat many foods, in daily pain and inflammation, and had constipation, diarrhoea, and skin problems.

My skin has cleared up, I have reduced pain and a better understanding of what foods I can eat, and a plan to continue on my individual journey to gut mind health.

I really enjoyed experimenting, buying, cooking, and preparing meals again.

Best thing I ever did for myself in 2021!

Jazmyn White
I found this program empowering and the support and strategies Luanne gave me have been invaluable! I am so glad I decided to work with Luanne as I now feel there is a light at the end of the tunnel and I will heal from histamine intolerance.

Renee King
Before I started I was constipated, with pain in my abdomen, headaches, unable to eat many foods. After completing the program my constipation was a lot better. Less pain,less reflux, less itching. Lowered inflammation.

The program and recipes really helped and encouraged me to try different foods and learn what I could make to eat. Also the tips on storing food and leftovers. It helps to lower your histamines.

Hilda Gawryluk
I had broken out in horrible, red, itchy hives from head to toe. I also think I had some brain fog. I didn't know a thing about histamine intolerance.

The program three days after breaking out in the hives and it took another four days for the hives to completely clear. Thank goodness. Now no more outbreaks. Now I'm cooking low histamine recipes for myself and it's working well. I'm gradually introducing other foods to test them out. Slowly but surely. My brain fog has cleared too.

The meal plan is delicious and very informative! The histamine intolerance information you provided is invaluable. I could cook plain recipes for myself after 46 years of cooking but I was worried I wouldn't get the nutrient balance right and the meals would probably end up a bit boring. Your meals are delicious and nutritious, thank you.

Margaret Morgan
I started the meal plan program for my daughter who is suffering from eczema, very dry and itchy skin, bloating, and gut issues. I didn't have knowledge about histamine foods at all and didn't have a clue what she could and couldn't have.

I still have a week left but I can see improvements with her tummy and certain areas of her skin are improving. Still need to do it for a while longer but it's so good to see some improvements.

It's so informative and the recipes are lovely and easy to make!

Zoe
Working with Luanne was life-changing, it was the piece that was missing in my continuing healing journey. Luanne is an expert on histamine intolerance. It is an investment in your health and definitely worth it!

Nikki Smith
Before starting the Happy Without Histamine Program I was absolutely miserable most of the time with allergy-like symptoms; Diarrhea, asthma, sneezing & runny nose, puffy face, itchy eyes & skin, and constantly clearing my nose and throat. I also had inflamed joints.

Afterward, all of them had gone. I responded so well it completely changed my life. Definitely increased energy and wellbeing. I felt happier, energetic, lost a little weight, brain fog lifted. I really enjoyed making foods that support my wellbeing and it became easier to shop. The plan is easy to follow. Food is yummy. Life-changing! The pesto recipe is to die for!!!

Sabina Lloyd
Before I started I was terribly confused about what to eat and unable to eat many foods. I was bloated and experiencing reflux (I have for 25 years), fatigue, headache, and fluctuating brain fog. After using the program I am feeling way more confident and definitely have had a reduction in my bloating and reflux. I would say there's been an added improvement in mental clarity. I have really enjoyed eating healthy food. I feel inflammation has also lowered.

The Happy Without Histamine 4-week meal plan is a godsend. It gave me direction when I was totally overwhelmed and confused. It gave me a joy of food again and reduced my feeling of loss of all the things I enjoy. It gave me an understanding of how to move forward. I never felt hungry (before I found the recipe book I was so hungry) and it was easy to manage around feeding our family of six. It was the BEST investment in my healing journey. I may have quit if I hadn't found it!

Dee Dickson
---
This is the right fit for you if:
You have just started on your histamine intolerance journey and want to find out how to do the diet right.
You have been trying to do a low histamine diet for a while and have been struggling to implement it.
You have seen a few results from reducing some of the highest histamine foods but feel like there is something missing you could be doing for better results.
You are confused by all the information out there and want to get curated relevant information about how to implement the low histamine diet.
You want to get started but just don't know how.
This might not be right for you if:
You only want to eat processed foods and don't want to change your diet at all.
You just want to take a supplement and not make any changes to your diet.
You are looking for individual support – check out my 6-month program for personalized nutrition advice.
You don't want to cook at all – the low histamine diet does involve some cooking and lots of easy recipes are included.
You are down to less than 5-10 foods – I recommend professional 1:1 support in this case.
You're happy with things remaining as they are.
If you're like most people I talk to, you've probably spent hours researching and trying to figure things out on your own, and you still haven't quite got there. You keep buying foods that you think are right, but end up throwing them out. You might have tried to get advice that cost hundreds of dollars, but still wasn't helpful to you. I know I'd be feeling frustrated, confused, and still lost while trying to figure out what to eat!
Register now and start your low-histamine diet the easy way.
Start now for only 5 weekly payments of $79.40